Don't miss an immersive STEM experience for your child this summer! There are only a few days left to save $25 on your registration for the all-new @CampInvention program hosted at Central Elementary. Registration is open for ALL Lubbock-Cooper ISD students entering grades 2-6. Camp runs June 5-9, 2023. Register today using SUM25 to save your spot at invent.org/mylocalcamp.
Monday, March 27 is a student holiday and professional development day for staff on all LCISD campuses!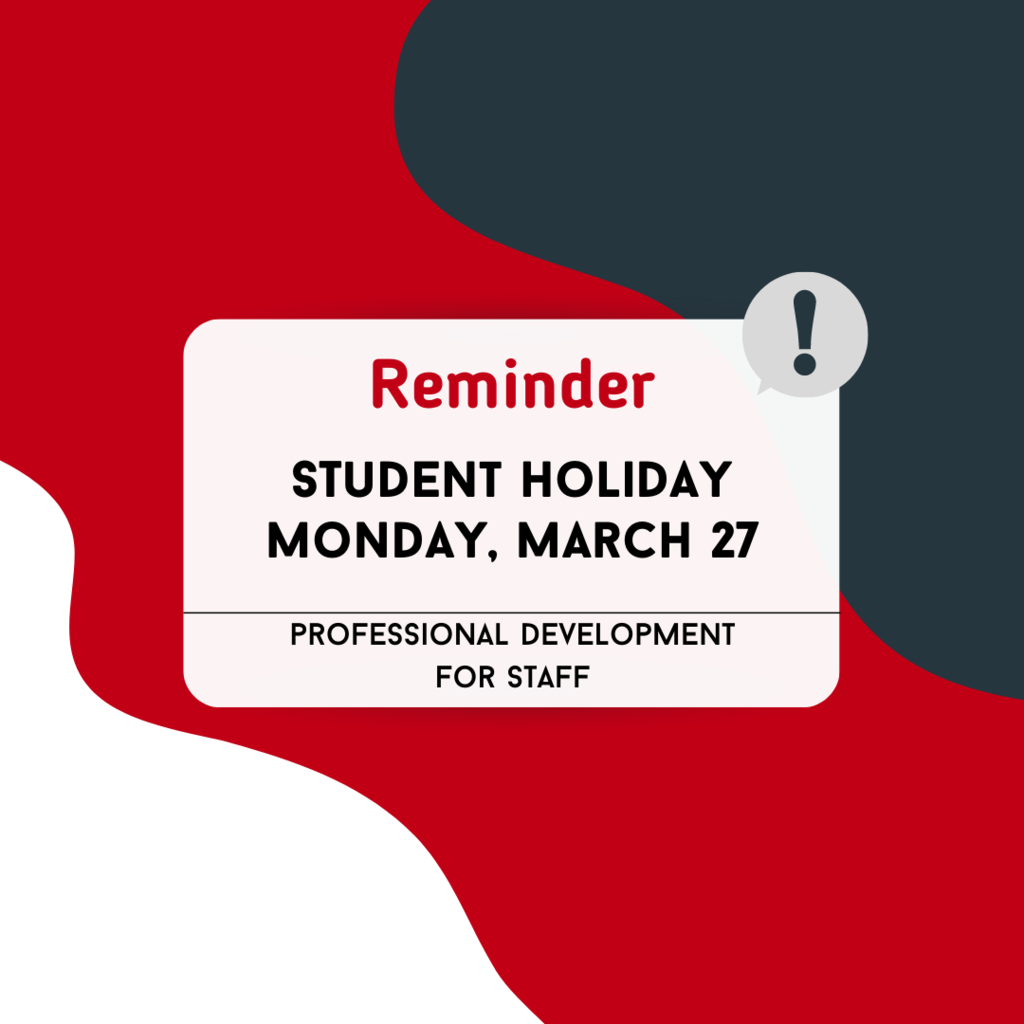 It's almost time to enroll the newest members of the LCP family! Our pre-k and kindergarten registration dates are listed below. (Remember, these events are for parents only; students will be welcomed by campuses at a later date!) If you are unable to attend on the dates listed below, don't worry! Regular enrollment will open for the 2023-24 school year on May 1. (Pre-k enrollment must be completed in-person on elementary campuses; kindergarten enrollment may be completed via the online enrollment link on the district's website.) Pre-k Registration Event Wednesday, April 12 12:30-5:30 p.m. LCISD Administrative Offices (13807 Indiana Ave.) For more information, including pre-k eligibility requirements, click (
https://5il.co/1r7nv
). LCISD pre-k is open only to students who qualify under one or more of the district's eligibility requirements. Kindergarten Registration Event Thursday, April 13 12:30-5:30 p.m. LCISD Administrative Offices (13807 Indiana Ave.) For more information, click (
https://5il.co/1r7my
). Students currently enrolled in LCISD pre-k will automatically be enrolled in LCISD kindergarten; there is no need to re-register these students. Read more about enrollment vaccination requirements here (
https://5il.co/1r7n0
).
Congratulations to our February East Pirates of the Month! Gannon Slocum Averie Ruiz Josiah Hernandez Alyssa George Lucas Deleon London Carrol Nathan Vasquez Ellis McClendon Jathan Pendgraft Hazel Mosley Kenston Lattimore Addison Molina Wyatt Hohrein Peyton Lovorn Juan Guzman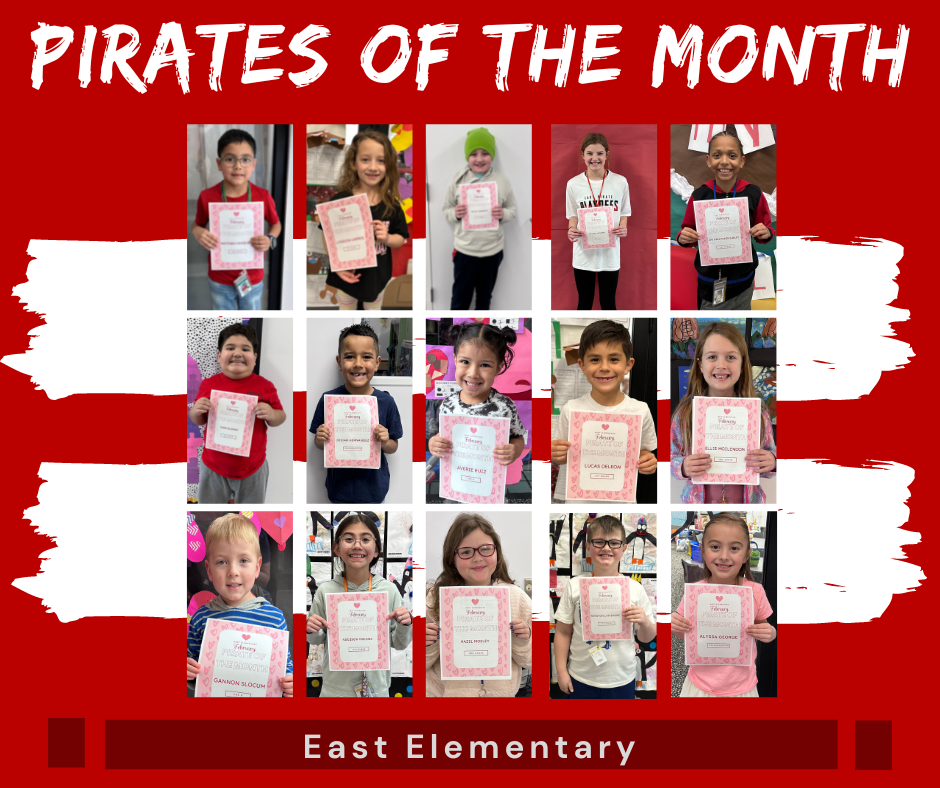 Spring Break is March 13-17! All campuses and district offices will be closed. Please remember, due to weather cancellations, this Friday, March 10 is now a FULL DAY of school (instead of the previously-scheduled half day).
Lubbock's Helmets and Heroes event is happening this weekend!
Thanks to our friend Jacob Riley, Chief Meteorologist at KLBK, for visiting with East Elementary third graders about weather! 🌦🌡🌨☀🌪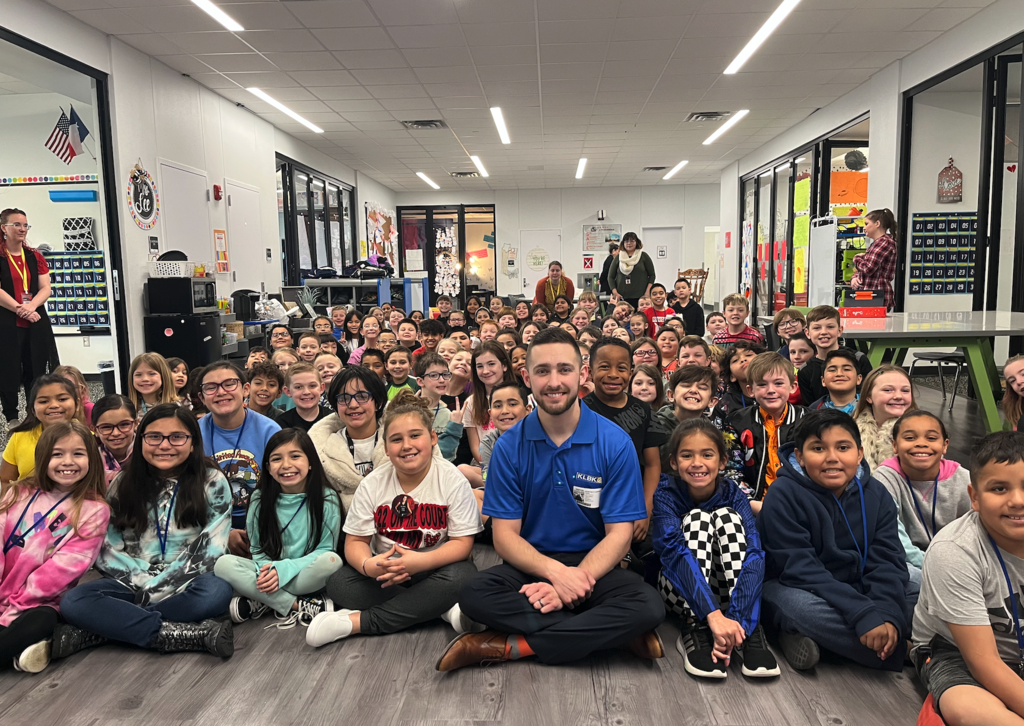 Registration for the Lady Hoopsters basketball league is now open for 1st-6th graders! Visit 
https://cooperhoopsters.com/home
 for more information and to register! Tryouts are Sunday, March 5 at the LCHS Practice Gyms.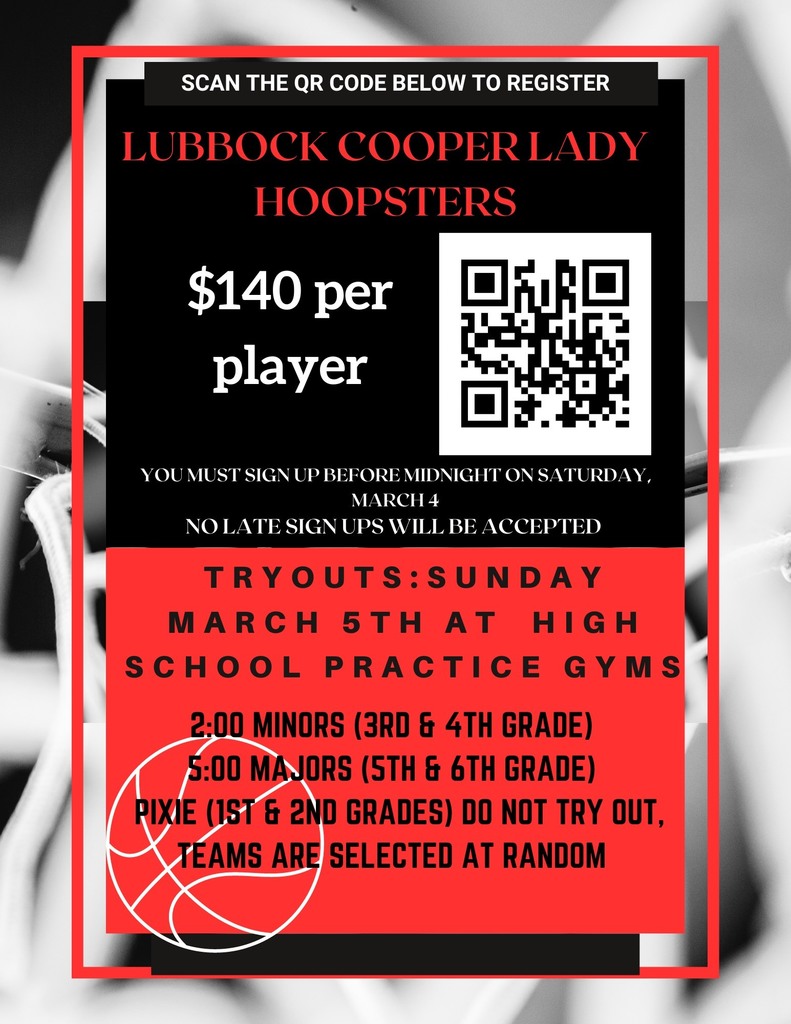 Camp Invention® returns to Central Elementary the week of June 5-9 with an all-new program! Kids entering grades 2-6 will team up for exciting STEM challenges , like building a mini skatepark, turning a robot into a stuffie, and more! Spots are filling up, so visit invent.org/mylocalcamp to register today! Use promo code SUM25 by 3/30 to save $25.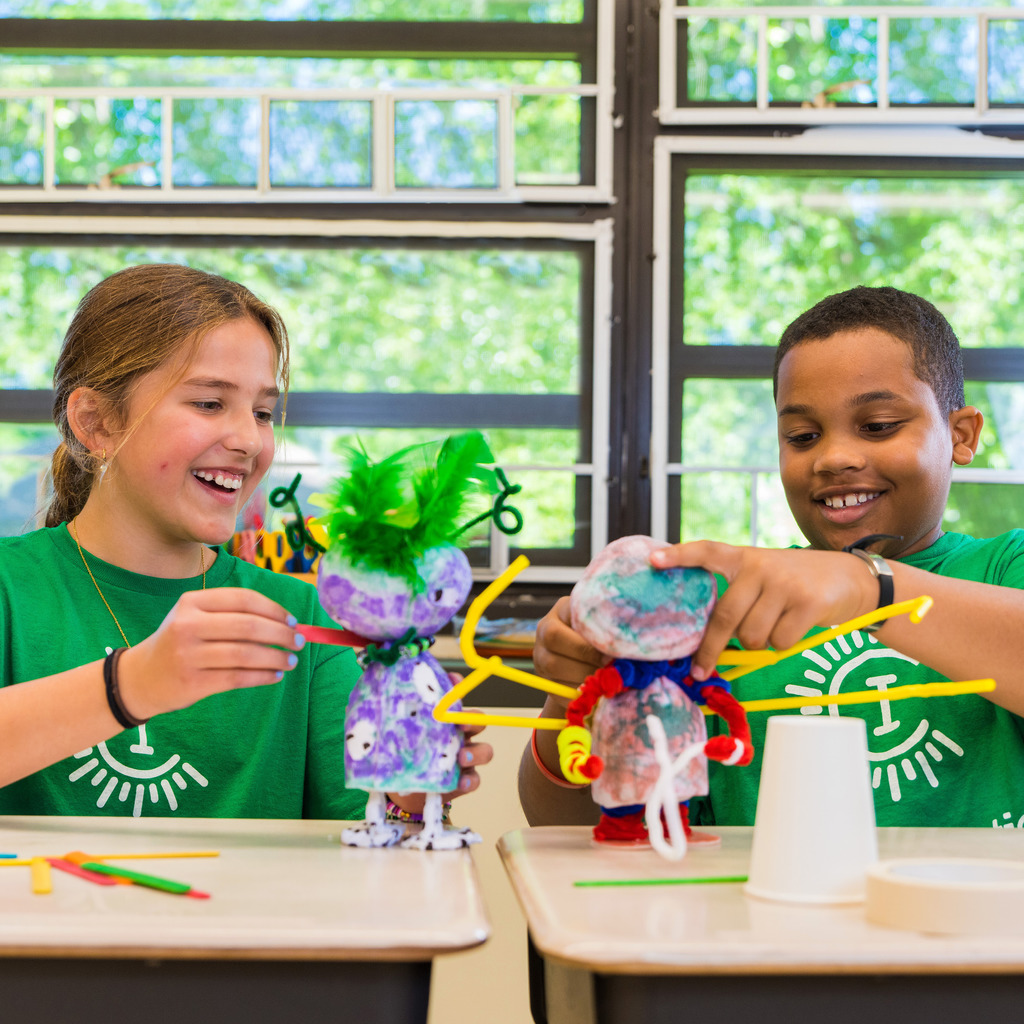 Looking for STAAR dates as you make plans and appointments this semester? This information can also be found on the campus Google calendar!
Monday, February 20 is a student and staff holiday across Lubbock-Cooper ISD!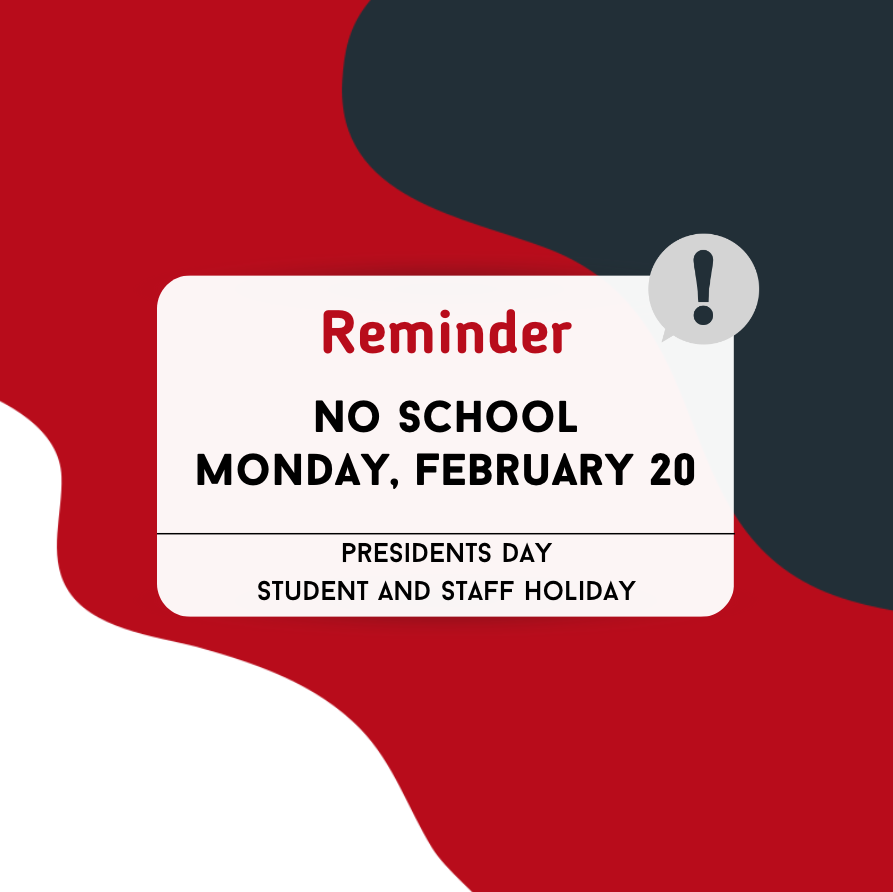 Check out this fun opportunity from the LCHS Class of 2024! #lcpfamily
Congratulations to our January Pirates of the Month! PK Logan Roach Anibell Vasquez Kinder Kamron Porras Lakin Reeves 1st Sean Dominguez Addison Carothers 2nd Summer Marose Cannon Norman 3rd Jameson Brewer Mia Versalles 4th Landon Reye Valeria Sanchez Garcia James McArdle 5th Rha'Ki Henderson Macie Castillo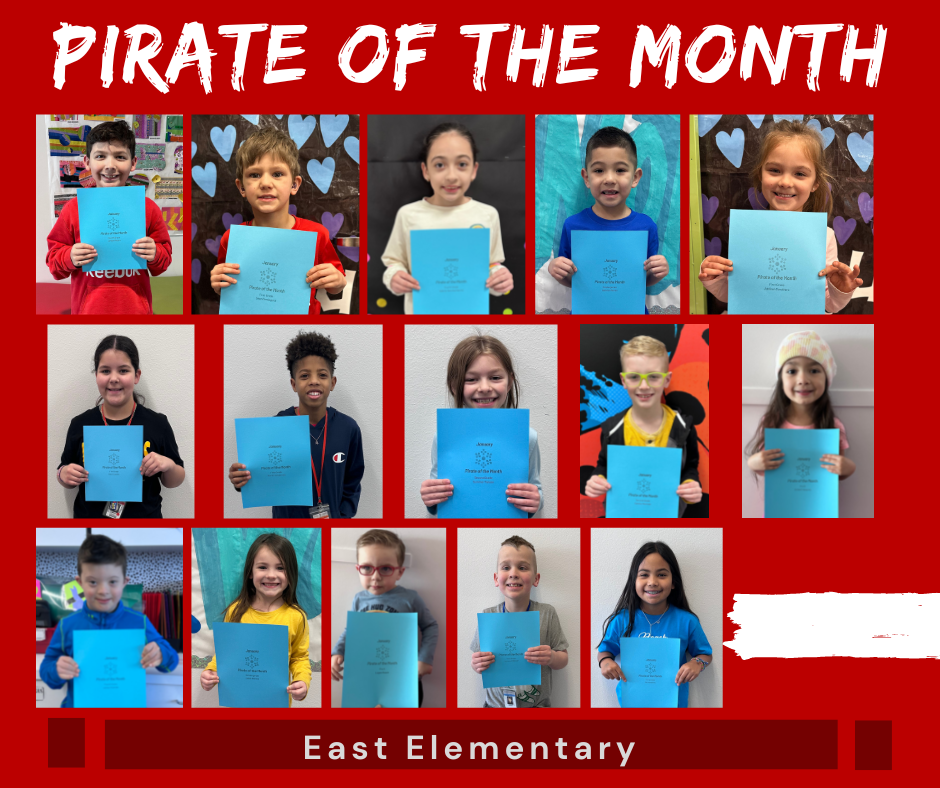 Support one of our very own East Pirates as she continues her battle!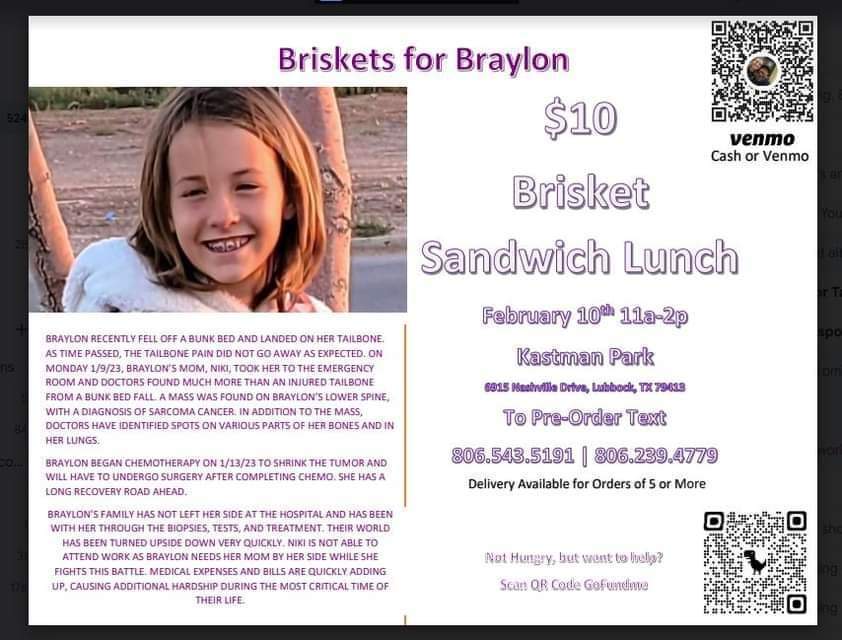 📣📣📣 Fifth-grade parent informational meetings have been rescheduled for 5:30 p.m. on Wednesday, February 8 at the Laura Bush Middle School and Lubbock-Cooper Middle School cafeterias. The same information will be provided at both meetings, and it doesn't matter which meeting you attend! If you are unable to attend the parent meeting, the information will be provided to you at a later date. 📣📣📣
Lubbock-Cooper ISD will start ON TIME today, Thursday, February 2, with buses running all routes as usual.